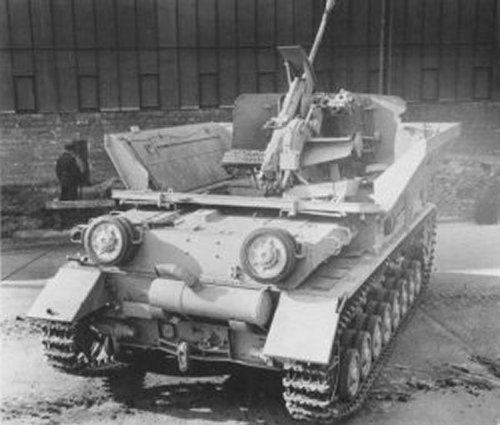 Service Data:
In Service:
1944 to 1945
Production Data:
Manufacturer:
Deutsche Eisenwerke
Chassis No:
93201
Number built:
240
Technical Data:
Type:
Anti-Aircraft Vehicle
Crew:
6 men
Length:
5.92 m
Width:
2.95 m
Height:
2.73 m
Weight:
24,000 kg
Fuel Capacity:
470 liters
Engine:
1 ×
Maybach HL 120 TRM
12 cylinder liquid cooled Vee petrol engine producing up to 300 hp at 3,000 rpm
Gearbox:
6 forward 1 reverse
Speed:
road 38 km/h cross country km/h
Range:
road 200 km cross country km
Armament:
1 ×
3.7 cm Flak 43
L/89
1 ×
7.92 mm MG 34
machine gun
Ammunition:
main 416 rounds
secondary 600 rounds
Armour:
10 mm to 80 mm
Electronics:
FuG 2 and FuG 5
Operators:
Heer
Variants:
10.5 cm K18 auf Panzer IVa
10.5 cm le.F.H.18/1 L/28 IVb
10.5 cm le.F.H.18/1 (Sf) auf Gw IVb
10.5 cm le Pz.H 18/40/2 auf Gw III/IV
Bergepanzer IV
Brückenleger IV
Flakpanzer IV Wirbelwind
Flakpanzer IV Ostwind
Heuschrecke 10
Hornisse / Nashorn
Hummel
Munitionspanzer IV
Munitionsträger Hummel
Munitionsschlepper für Karl Gerät
Flakpanzer IV Möbelwagen 2 cm
Flakpanzer IV Möbelwagen 3.7 cm
Infanterie Sturmsteg Panzer IV
Jagdpanzer IV
Leichte Flakpanzer IV Kugelblitz
Panzerbefehlswagen IV
Panzerbeobachtungwagen IV
Panzerfähre
Panzer IV /70 A
Panzer IV /70(V)
Panzer IV als Tauchpanzer
Panzer IV Ausf. A
Panzer IV Ausf. B
Panzer IV Ausf. C
Panzer IV mit Minenrollern
Panzer IV Ausf. D
Panzer IV Ausf. E
Panzer IV mit Schachtellaufwerk
Panzer IV Ausf. F
Panzer IV Ausf. F2
Panzer IV Ausf. G
Panzer IV Ausf. H
Panzer IV Ausf. J
Panzer IV mit Nebelwerfer
Sonderausführung des Panzer IV
StuG IV
Sturmpanzer IV Brummbär
Other:
Anti-Aircraft Vehicles
Articles:
History:
The Flakpanzer IV Möbelwagen 3.7 cm (Furniture Van) because of its boxy turret when closed or 3.7 cm Flak auf Fahrgestell Panzerkampfwagen IV Selbstfahrlafette Sd.Kfz. 161/3 or abbreviated to 3.7 cm Flak auf Fgst Pz.Kpfw. IV (Sf) Sd.Kfz. 161/3 was a self-propelled antiaircraft built from the chassis of the Panzer IV. It was used by the Wehrmacht Panzer divisions during the Second World War.
A second design with an upgraded single
3.7 cm Flakvierling 43
L/89 was authorised as a short term solution until better Flakpanzers could be created. 240 of the 3.7 cm Flakpanzer IV were built. This design was designated Flakpanzer IV, and the first production models were put into service on the Western Front in April 1944.
These were fitted with an open top superstructure that allowed for the gun mount. Around this, four hinged 20 mm armored plates were placed. These plates had two standard operating positions, they could be lowered for full 360 degree traverse, allowing flat or l low level firing, or they could be half closed, being fastened together to hang slightly open. In this position, they had notches that allowed the gun full rotation, but only for firing at airborne targets. Nevertheless, both of these positions left the crew highly vulnerable. The fully closed position was only used for transport, when the plates would give the crew some protection from small arms fire and shrapnel.
Though the Möbelwagen was intended to be a stopgap, it served the anti-aircraft platoons of the Panzer Divisions exceedingly well on the Western Front. Despite fewer than 300 were produced, and it was eventually succeeded by the first true Flakpanzers,
Wirbelwind
,
Ostwind
, and
Kugelblitz
all of which provided the crew with armored protection and full rotation when firing at either ground or air targets.
Gallery: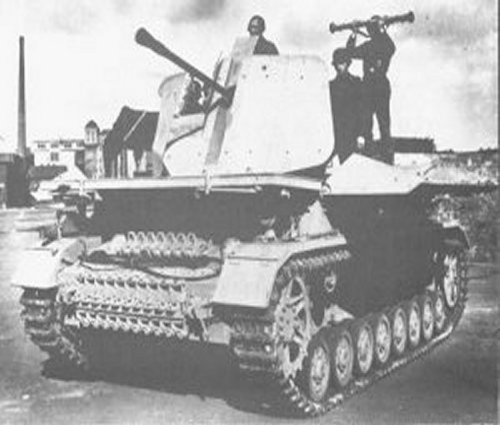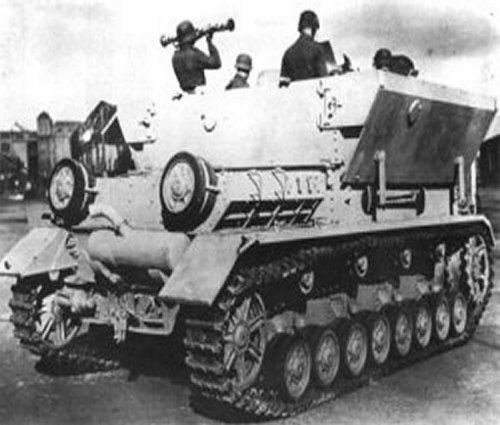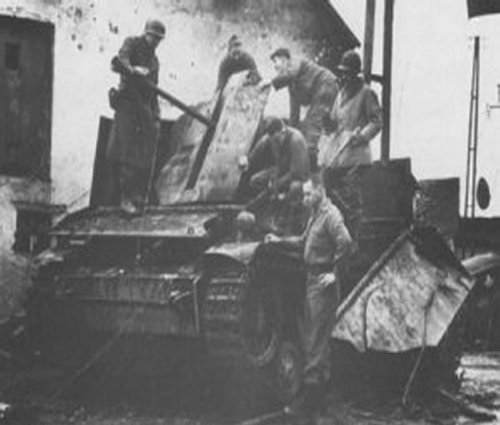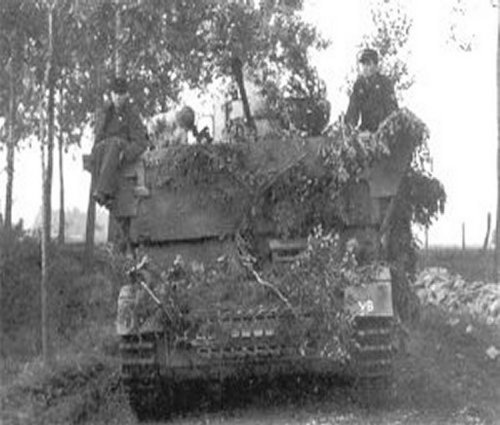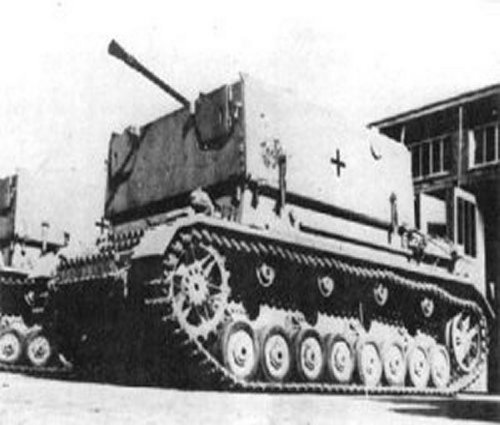 Heer Comments
Sources:
German Military Vehicles.
ISBN-10: 087349783X
Armoured Fighting Vehicles of Germany World War II.
ISBN-10: 0214203077
Encyclopedia of German Tanks of World Two.
ISBN-10: 1854095188
For a complete list of
sources