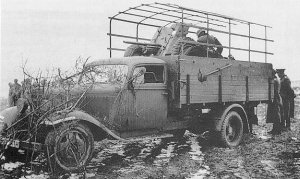 As part of the Wehrmacht's re-armament program they used commercially available Lorries (Lastkraftwagen) and modified them for military use.
In 1934 it was decided to replace the existing commercially bought vehicles and with a new range of standardised purpose-built vehicles. It was decided that there would be three classes of Lastkraftwagen. And that they should have as many parts. In common as possible, e.g. suspension engines, etc. many manufacturers were involved in the manufacture of Lastkraftwagen, M.A.N, Daimler-Benz, Faun, Hansa-Lloyed-Goliath, Henschel, Magirus, Vomag, Opel Blitz.

Gallery:
Sources:
German Military Vehicles.
ISBN-10: 087349783X
Armoured Fighting Vehicles of Germany World War II.
ISBN-10: 0214203077
Encyclopedia of German Tanks of World Two.
ISBN-10: 1854095188
For a complete list of
sources