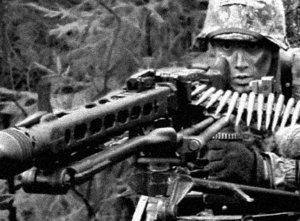 The Maschinengewehr 34, or MG34, was designed by Heinrich Vollmer from Mauser Werke, and was first in service in 1934. It was used as the main infantry machine gun during the early years of the war and continued to be used as the main machine gun armament, for armoured fighting vehicles panzers, armoured cars, tracks etc. The Luftwaffe also made great use of the MG34.
The Maschinengewehr 1942, or MG42 was developed as a replacement for the MG34. The MG42, was designed to be easily manufactured using stamped parts. However, not enough could be produced to supply all the infantry units that required the MG42. Also with a simplified production methods. The cost of making the MG42 were much much lower than the MG34. The MG42 was an extremely reliable machine gun, the only real problems suffered by the MG42, was overheating due to the incredible rate of fire, and of course enormous amounts of ammunition were used up. The MG42 could achieve 1200 rpm. The other remarkable aspect was the MG42 ability to fire single shots when required. This machine gun acquired quite a reputation amongst Allied forces, who nicknamed it Hitler's Buzzsaw.
Gallery:
Sources:
German Military Vehicles.
ISBN-10: 087349783X
Armoured Fighting Vehicles of Germany World War II.
ISBN-10: 0214203077
Encyclopedia of German Tanks of World Two.
ISBN-10: 1854095188
For a complete list of
sources