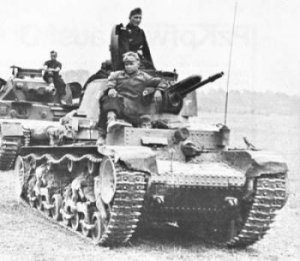 The Panzerkampfwagen 35(t), commonly shortened to Panzer 35(t) or abbreviated as Pz.Kpfw. 35(t) was a Czechoslovakian light tank designed and developed by
Skoda
and also produced by
CKD
they called it LT-35, when the Germans occupied Czechoslovakia. They renamed the light tank to Panzer 35(t).
The Czechoslovakian light tanks were equal if not better than the German
Panzer II
's and
Panzer III
's the only weakness was in their riveted construction, any impacting rounds could shear off the head of the rivet which in turn would then ricochet inside the crew compartments and cause casualties.
Gallery:
Sources:
German Military Vehicles.
ISBN-10: 087349783X
Armoured Fighting Vehicles of Germany World War II.
ISBN-10: 0214203077
Encyclopedia of German Tanks of World Two.
ISBN-10: 1854095188
For a complete list of
sources