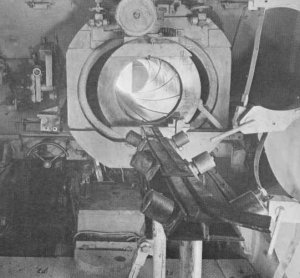 Service Data:
In Service:
1944 to 1945
Production Data:
Manufacturer:
Rheinmetall-Borsig
Number built:
Technical Data:
Type:
Raketenwerfer
Calibre:
38 cm
Length:
205.20 m
Weight:
kg
Breech:
semi-automatic sliding block, electrically fired
Recoil:
Carriage:
Sturmtiger
Elevation:
-0° to +85°
Traverse:
10° left 10° right
Sight:
PaK ZF 3 × 8
Ammunition:
Raketen Sprenggranate 4581
Raketen Hohladungsgranate 4582
WGr 4592
Rate of fire:
rounds per minute
Muzzle velocity:
91 m/s
Effective range:
4,600 m
Shell Weight:
345.2 kg, 351 kg
Used by:
Heer
Variants:
Other:
Panzer Armaments
Articles:
History:
The 38 cm Stu M RW61 L/5.4 or (38 cm Raketenwerfer 61 L/5.4) And was the main armamemet for
Sturmtiger
The 38 cm Stu M RW61 L/5.4 started life as a Naval weapon and was chosen for mounting on the Tiger I chassis, and then redesignated as the 38 cm RTg (Raketen-Tauchgranate) Stu M RW61 L/5.4 And so, the Panzermörser 38 cm (self-propelled 38 cm mortar) or
Sturmtiger
was born.
To give this weapon an increased ability to penetrate thick concrete walls, hollow charge projectiles were designed. The shaped charge round could penetrate up 2.5 m of reinforced concrete.
Gallery:
Heer Comments
Sources:
German Military Vehicles.
ISBN-10: 087349783X
Armoured Fighting Vehicles of Germany World War II.
ISBN-10: 0214203077
Encyclopedia of German Tanks of World Two.
ISBN-10: 1854095188
For a complete list of
sources