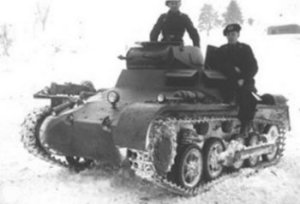 During the initial campaigns of World War Two the Wehrmacht's Panzer I's, (Sd.Kfz. 101) formed the bulk of its armour. In March 1938 the Wehrmacht Army marched into Austria, encountering a breakdown rate of up to thirty percent. The knowledge gained during the occupation of Austria allowed
Heinz Guderian
to remedy several major faults within the Wehrmacht armour corps and subsequently allowed him to improve the fuel supply and maintenance situation. In October 1938 Wehrmacht tanks occupied Czechoslovakia's Sudetenland, and then occupied the remainder of the country in March 1939. The take over of Czechoslovakia allowed several Czech tank designs, such as the
Panzer 35(t)
and
Panzer 38(t)
, to be incorporated into the Wehrmacht Army. It also prepared the Wehrmacht forces for the eventual invasion of Poland.
Intended as a training tank to introduce the concept of mobile armoured warfare into the Wehrmacht Army, its design began in 1932 and mass production started in 1934. Despite the original purpose of the vehicle, the Panzer I saw combat in Spain 1936 to 1939 and Czechoslovakia's in 1939. The experience gained during these earlier campaigns would shape the way Wehrmacht armour invaded Poland in 1939 and France in 1940. In 1941 the old Panzer I chassis was being used to produce tank destroyers. There were many attempts to upgrade the Panzer I throughout its history.
The Panzer I's armour protection and light armament affected its overall performance in combat. Although this should not be a surprise as it was never designed for a combat role. The Panzer I formed large portions of Wehrmacht total armour strength in most major campaigns between September 1939 and December 1941.

Gallery:
This clip shows Panzer I's on parade, doing complex manoeuvres.
Sources:
German Military Vehicles.
ISBN-10: 087349783X
Armoured Fighting Vehicles of Germany World War II.
ISBN-10: 0214203077
Encyclopedia of German Tanks of World Two.
ISBN-10: 1854095188
For a complete list of
sources