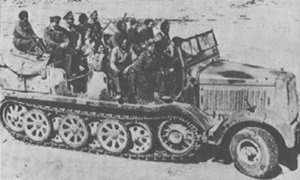 The Sd.Kfz. 8 was a 12 ton halftrack prime mover used by the Wehrmacht during the World War II. The Sd.Kfz. 8 was designed by
Daimler-Benz
in 1934 to be used as the primary towing vehicle for the
21 cm Mörser 18
,
15 cm Kanone 18
,
10.5 cm Flak 38
. Also the Sd.Kfz. 8 was produced by
Krauss-Maffei
,
Krupp
,
Skoda
during the war years. The Sd.Kfz. 8 was used in every campaign fought by the Wehrmacht in World War II, Invasion of Poland, the Battle for France, the Balkans Campaign, the Eastern Front, the North African Campaign, the Battle of Normandy and the Italian Campaign. The Sd.Kfz. 8 was also used as a recovery vehicle.
Gallery:
Sources:
German Military Vehicles.
ISBN-10: 087349783X
Armoured Fighting Vehicles of Germany World War II.
ISBN-10: 0214203077
Encyclopedia of German Tanks of World Two.
ISBN-10: 1854095188
For a complete list of
sources