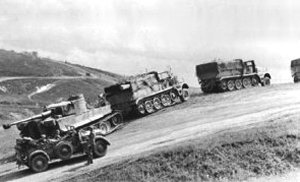 The Sd.Kfz. 9 was the largest of all halftraked vehicles built and were designed primarily as a heavy vehicle to recover tanks and tow the Sd.Ah. 115, Sd.Ah. 116 tank transporters, The designed and development was under taken by FAMO. The first Sd.Kfz. 9 Was introduced in 1936. The main production model went into production in 1938 and continued until 1945. There were of number Sd.Kfz. 9 variants one being a bridging unit used by engineer companies, there was also an artillery version, which towed 24 cm Kanone 3, 24 cm Haubitze 39, 21 cm Kanone 38 12.8 cm Flak 40. 1943 after the introduction of the new and improved heavier panzers. The Sd.Kfz. 9 was no longer capable of recovering tanks, such as the Panther or Tiger on its own. However, Sd.Kfz. 9 remained in service for all other lighter tanks and vehicles. Nevertheless, the Sd.Kfz. 9 was pressed into service for use in recovering the larger tanks. They had to be put in units of three to tow a single heavy tank until enough Bergepanther could be made available.

Gallery:
Sources:
German Military Vehicles.
ISBN-10: 087349783X
Armoured Fighting Vehicles of Germany World War II.
ISBN-10: 0214203077
Encyclopedia of German Tanks of World Two.
ISBN-10: 1854095188
For a complete list of
sources