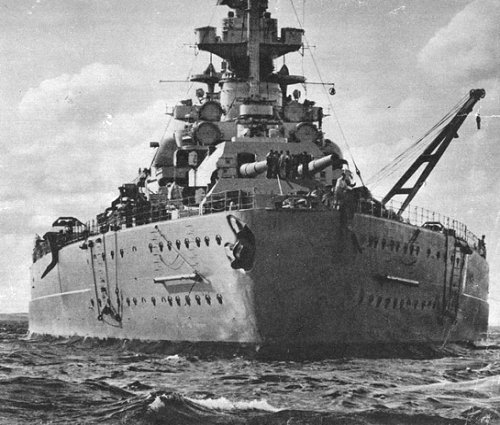 The Bismarck class battleships were a class of battleships built by the Wehrmacht around the onset of World War II. In terms of full-load displacement, the Bismarck-class ships were the third-largest battleships ever built. According to the prewar German naval program, Plan Z, the Bismarcks were to function in conjunction with the Scharnhorst battleships as a homefleet set against the Royal Navy. Operationally, they had to be used in attacking merchant shipping. Bismarck was sunk in battle with the Royal Navy in the North Atlantic. The Tirpitz capsized at its anchorage in Norway after an aerial attack from Royal Air Force bombers.
The Scharnhorst class were the foremost capital ships built for the German Navy since World War I. They marked the commencement of German naval rearmament after the Treaty of Versailles. They were the first class of German ships to be officially called by the Kriegsmarine as Schlachtschiff (battleship). Preceding German battleships were classified as Linienschiffe (ship of the line) and Panzerschiffe (armoured ship). Their enemy, the Royal Navy considered them as battlecruisers, although another adversary, the United States Navy thought of them as battleships.
Ships in Bismarck class
Bismarck
Tirpitz
Ships in Scharnhorst class
Gneisenau
Scharnhorst
German Warships, 1815-1945: Major Surface Vessels.
ISBN-10: 0851775330
German Warships, 1815-1945: U-boats and Mine Warfare Vessels.
ISBN-10: 155750301X
German warships of the Second World War.
ISBN-10: 0668040378
For a complete list of
sources