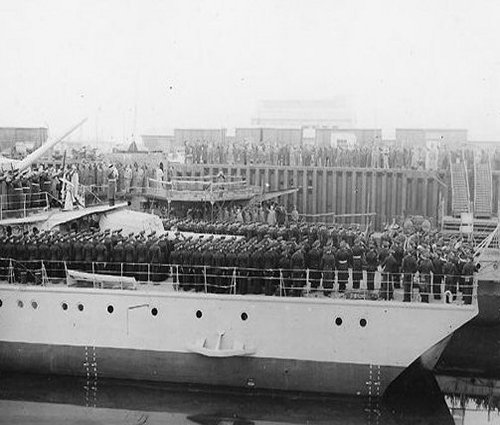 The Zerstörer 1936A class destroyers or Narvik class destroyers, as they were recognised by the Allies in World War 2, were a group of eight destroyers planned to carry new 15 cm guns in single turrets with a twin turret at the bow. The twin mountings were not assembled in time and so singles were initially used, and the twins fitted subsequently, (only to four ships Z-23, Z-24, Z-25, and Z-29). Anti aircraft armament was enhanced. Despite reusing previous ship designs as a foundation, with alterations to improve seaworthiness, the ships were wet in heavy seas, particularly fitted with heavy turrets. After much exertion, the issue was traced to a newly designed stern. However, this problem was moderately offset by the fact that the twin mount was thoroughly enclosed and had a high maximum elevation, permitting limited use against aircraft. These ships went back to the old German practice of assigning torpedo ships numbers instead of names. Four made it through the war.
The ships in this class were called.
Z-23, Z-24, Z-25, Z-26, Z-27, Z-28 Z-29, and Z-30.
German Warships, 1815-1945: Major Surface Vessels.
ISBN-10: 0851775330
German Warships, 1815-1945: U-boats and Mine Warfare Vessels.
ISBN-10: 155750301X
German warships of the Second World War.
ISBN-10: 0668040378
For a complete list of
sources