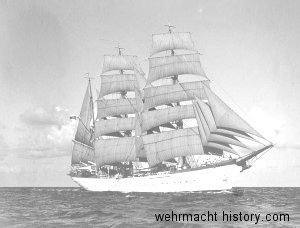 In Service:
16 September 1936 to 1945
Ordered:
Builder:
Blohm & Voss
, Hamburg
Construction No:
Laid down:
15 February 1936
Launched:
13 June 1936
Commissioned:
16 September 1936
Type:
Rigged Training Ship / Segelschulschiffe
Class:
Horst Wessel
Displacement:
1,750 tons
Length:
waterline 89 m overall
Beam:
12. m
Draft:
4.8 m
Propulsion:
Sail area 1.950 m 8 × cylinder MAN
Propellers:
1
Speed:
10 knots
Range:
3,500 nautical miles at 10 knots
Crew:
291 men and officers
Armament:
Armour
Aircraft:
Electronics:
Operators:
Kriegsmarine
Variants:
Other:
Rigged Training Ships
Articles:
16 September 1936
The rigged training ship Horst Wessel is commissioned.
August Thiele
Takes command on 17 September 1936
Ends command on 27 January 1939
Kurt Weyher
Takes command on January 1939
Ends command on September 1939
by Lewis Williams 9/02/2012
Following WWII, the United States took the Horst Wessel as a war reparation. It became the U.S.C.G.C. Eagle and has been a training ship at the Coast Guard Academy in New London, Connecticut ever since. It has taken cadets on cruises all over the world since that time, participated in Operation Sail in New York City and other similar regattas. In the late '60's its bow was sheared off in the fog by a large, foreign merchant shop. It was repaired and put back into duty. I had the pleasure of taking two cruises on it in 1966 and 1967. One gets a profound appreciation for seamanship, as well for the courage of those who sailed on wooden ships in the great Age of Sail. Truly they were iron men on wooden ships. Semper Paratus!
German Warships, 1815-1945: Major Surface Vessels.
ISBN-10: 0851775330
German Warships, 1815-1945: U-boats and Mine Warfare Vessels.
ISBN-10: 155750301X
German warships of the Second World War.
ISBN-10: 0668040378
For a complete list of
sources