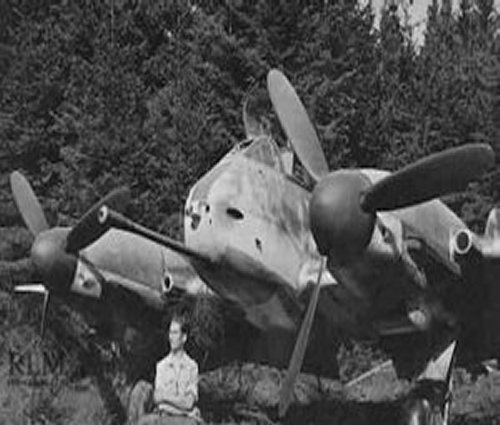 In Service:
1943 to 1945
Manufacturer:
Rheinmetall-Borsig
Number built:
300
Type:
Bordkanone
Calibre:
50 mm
Length:
4.342 mm
Weight:
540 kg
Rate of fire:
45 rounds per minute
Muzzle velocity:
920 m/s
Effective range:
m
Variants:
5 cm PaK 38
5 cm KwK 38
5 cm KwK 39
5 cm Flak 214
5 cm BK
Other:
Armaments
Articles:
The 5 cm BK (Bordkanone 5 cm) was designed by
Rheinmetall-Borsig
for primary for use against Allied heavy bombers so that defending Luftwaffe pilots could fire at a much greater distance, making their defensive fire less effective, secondly use was in the anti-tank role on the Eastern Front, The 5 cm BK was modified from the
5 cm KwK 39
Kampfwagenkanone that was being used in
Panzer III's
and
Armored Cars
. A few modifications were needed to turn
5 cm KwK 39
into an aircraft weapon the most notable alteration was the provision of an automatic cartridge feed, which formed a circular belt at the rear. since the 5 cm BK did not have a reciprocating belt to feed the cartridges, a compressed air driven rammer was designed into the rear of the gun, which allowed a 50 mm cartridge out of the feed belt and into the gun breech and run it into the chamber for firing. Aircraft that used the 5 cm BK were as follows
Me 262
Me 410
Ju 88
. However the experimental installation of the 5 cm BK into the
Me 262
was not continued probably due to the fact that the weapon kept jamming. On the whole this weapon was extremely effective.
The 5 cm BK (Bordkanone 5 cm) anti-tank cannon was installed in the following Luftwaffe aircraft.
Messerschmitt Me 262
Messerschmitt Me 410
Junkers Ju 88
The Warplanes of the Third Reich.
ISBN-10: 0385057822
Flying Guns World War II.
ISBN-10: 1840372273
German Aircraft Guns WW I WW II.
ISBN-10: 091196410X
For a complete list of
sources