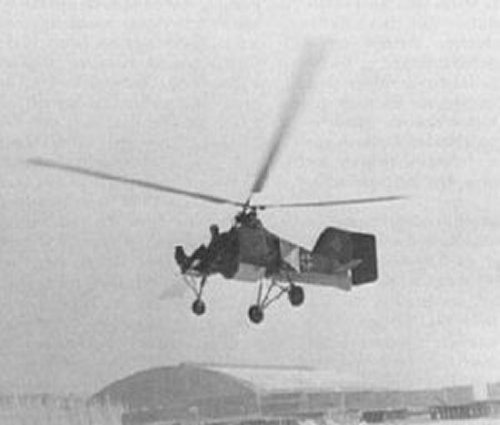 In Service:
July 1942 to 1945
First Flight:
July 1942
Manufacturer:
Flettner
Number built:
Type:
Helicopter, reconnaissance
Crew:
1 man
Length:
6.56 m
Rotor diameter:
11.96 m
Disc area
119 m²
Height:
2.2 m
Empty:
760 kg
Loaded:
1,000 kg
Engine:
1 ×
Siemens Bramo Sh 14A
7 cylinder air cooled radial engine producing up to 160 hp
Maximum speed:
150 km/h
Range:
300 km
Service ceiling:
4,100 m
Armament:
Bomb load up to 2 × 5 kg
Electronics:
Operators:
Luftwafe
Variants:
Fl 282 A-1
Fl 282 A-2
Fl 282 B-1

Fl 282 B-2
Other:
Helicopters
Articles:
The Flettner Fl 282 was the first helicopter to be used in during World War II, The Luftwaffe and Kriegsmarine tested the helicopter in the Mediterranean theatre. Plans to build 1,000 Flettner Fl 282 was abandoned after the Flettner factories were bombed by the Allies. Only three of these helicopters survived the war the rest were destroyed to prevent capture. Today only a few components still exist.
The Warplanes of the Third Reich.
ISBN-10: 0385057822
German Aircraft of the Second World War.
ISBN-10: 0370000242
Hitler's Luftwaffe.
ISBN-10: 051718771X
For a complete list of
sources