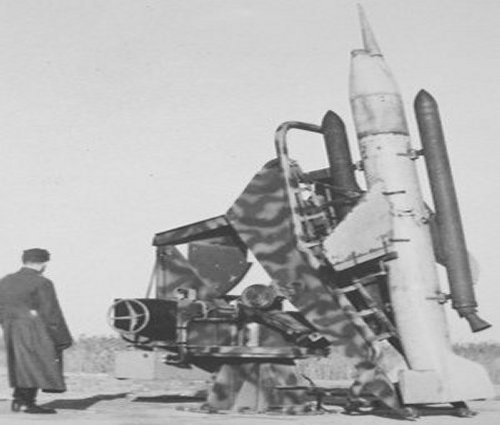 In Service:
1943 to 1945
First Flight:
Manufacturer:
Henschel
Number built:
Type:
Surface-to-Air Missile
Guidance system:
radio controlled
Length:
4.30 m
Wingspan:
2 m
Diameter:
0.35 m
Weight:
420 kg
Engine:
1 ×
BMW 109-558
liquid fuel rocket engine producing up to 375 kg of thrust 2 ×
Schmidding 109-553
solid fuel rocket engine producing up to 1,750 kg of thrust
Maximum speed:
km/h
Range:
32 km
Warhead:
25 kg
Fuze:
proximity
Launch Platform:
3.7 cm gun carriage
Operators:
Luftwaffe
Variants:
Hs 117
Hs 117H
Other:
Missiles
Articles:
The Henschel Hs 117 Schmetterling (Butterfly) was a subsonic missile. Designed and developed by
Henschel und Sohn
in 1941 under the leadership of Dr.-Ing.
Herbert Alois Wagner
.
The Henschel Hs 117 Schmetterling was a subsonic missile was shaped like a small aircraft with swept back wings and cruciform tail unit. The nose was asymmetric and divided into the warhead extension on the starboard side and a shorter extension for a generator propeller on the port side. Aerodynamic control was by means of solenoid operated Wager bars at the trailing edges of the wings and tail plane, and no rudder was required.
To launch a Henschel Hs 117 a modified 3.7 cm gun carriage was used, which formed two crutches, on which the wings rested. For takeoff boost, 2 ×
Schmidding 109-553
solid fuel rocket engine producing up to 1,750 kg of thrust. Once expended the boosters fell away to ignite the main engine, which was 1 ×
BMW 109-558
liquid fuel rocket engine producing up to 375 kg of thrust, an alternative main engine could be used, which was the
Walter 109-729
. An automatic system was employed to ensure that the missile flew at its correct, Mac number and that the correct airspeed was obtained.
The Henschel Hs 117 was intended for low and medium altitude interceptions it was expected that visual line of sight guidance would be sufficient, using already available equipment in order to get the missile operational in the shortest time. The Hs 117 was sighted visually use in a 10 × telescope. Two operators were needed one to search and set the telescope in the approximate direction given by the standard optical flak predictor, and the other to control the missile into a line of sight using a joystick control. The control link was along similar lines to the Kehl-Straßburg (designed and developed by Telefunken) system.
Under Blind conditions. It was hoped to use the mannheim Riese ground radar systems whereby both target and missile were showed on cathode ray tubes, and the operator applied control.
Testing of the Henschel Hs 117 began in May 1944 at
Karlshagen
on the Baltic coast, and by September twenty two. Hs 117 had been launched including the ones launched by
He 111
.
The first blind tests was simulated with Würzburg radar equipment when the missile was released from an
He 111
and controlled from the ground, with acceptable results. According to pilots observations. Other tests were made from September 1944, by the Luftwaffe's flak units, which had the task of appraising the flak missiles and formulating techniques for their utilisation.
Production of the Henschel Hs 117 was ordered in December 1944 and projected to start in March 1945 with a starting figure of 150 per month, and slowly rising to 3,000 a month. By November of that year. The first launching site was projected for March 1945 with 60 sites to set up by November. Plus 10 a month after this, although the Henschel Hs 117 came nearest of all German ground to air missiles to being operational.
The
Hs 117H
was an air launched variant, designed to be launched from a
Do 217
,
Ju 188
, or
Ju 388
aircraft.
The Warplanes of the Third Reich.
ISBN-10: 0385057822
German Aircraft of the Second World War.
ISBN-10: 0370000242
Hitler's Luftwaffe.
ISBN-10: 051718771X
For a complete list of
sources