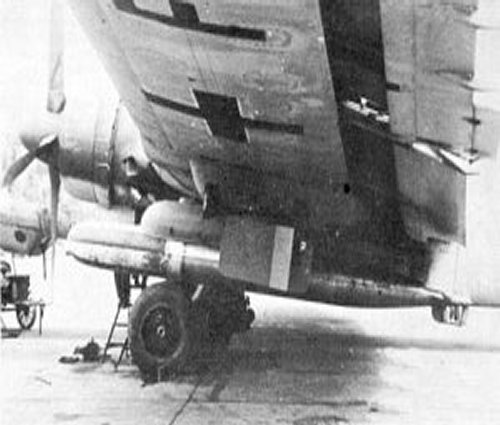 In Service:
1943 to 1945
First Flight:
Manufacturer:
Blohm & Voss
Number built:
Type:
Anti-ship Missiless
Guidance system:
Length:
3.43 m
Wingspan:
2.8 m
Diameter:
m
Weight:
1,050 kg
Engine:
none
Maximum speed:
km/h
Range:
8,500 m
Warhead:
kg
Fuze:
Launch Platform:
He 111
,
Ju 188
Operators:
Luftwaffe
Variants:
Other:
Missiles
Articles:
The Blohm & Voss L11 Schneewittchen (Snowwhite) was a winged torpedo glide bomb designed and developed by
Blohm & Voss
in 1942 under the leadership of Dr.-Ing.
Richard Vogt
.
The Blohm & Voss L11 Schneewittchen (Snowwhite) was a further development of the
Blohm & Voss L10 Friedensengel
(Angel of Peace). The Blohm & Voss L11 could be launched at a far greater speed, to fire the weapon the carrier aircraft turned towards the intended target to align the plane with a target. The carrier aircraft then launched the torpedo at a speed of 500 km/h, after the glide bomb was launched a small breaking parachute was deployed to slow the dissent by the glide bomb, Simultaneously once the torpedo had been released. The carrier aircraft triggered a time fuse, thereby deploying a small kite which was towed behind a glide bomb on a 25 m cable. When the glid bomb hit the surface of the water, sensors in the Kite would detach the glider body, allowing the torpedo to continue fully submerged to target.
The Warplanes of the Third Reich.
ISBN-10: 0385057822
German Aircraft of the Second World War.
ISBN-10: 0370000242
Hitler's Luftwaffe.
ISBN-10: 051718771X
For a complete list of
sources