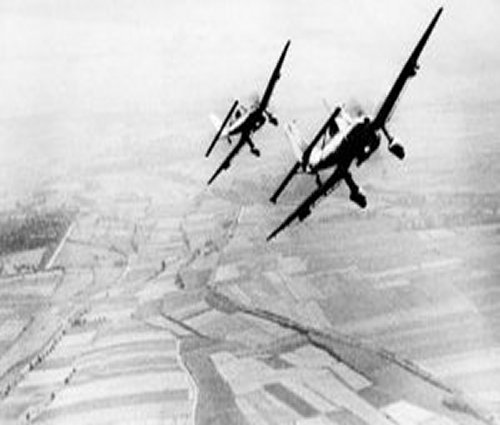 By finding Dulcinea Staff
13 August 2008
Battle Begins
The Battle of Britain began when Germany launched Eagle Day, its first major offensive against Britain
After Nazi Germany declared victory in France during World War II, its attention shifted to Great Britain. Although the waters of the English Channel protected the country from attacks by land, German commander
Adolf Hitler
was determined to conquer the powerful nation. On
July 16, 1940
,
Hitler
ordered the preparation of a plan to invade Great Britain. He knew this would be possible only through air attacks, as Britain's Royal Navy was one of the world's most powerful. Germany's air force, the Luftwaffe, launched air attacks primarily focused on crippling Britain's shipping capacity, but beginning in August, efforts were redirected to targeting the Royal Air Force Fighter Command.
On August 2, the Luftwaffe issued the "Eagle Day" directive, laying the groundwork for an attack in which "a few massive blows from the air were to destroy British air power and so open the way for the amphibious invasion, termed Operation 'Sea Lion,'" Encyclopaedia Britannica explains.
The weather on "Eagle Day," August 13, was overcast with a low cloud looming over the channel and the coast. Just after 5 a.m., the German bombers took off and soon began attacking Royal Air Force commands on Britain's southeast coast. The RAF was ready for the attack, armed with technologically advanced radar systems that could detect air movement.
The Eagle Day mission was subsequently described as a disaster for the Luftwaffe. There were three occasions where communication was compromised, leading to a lack of organization that left the German attackers vulnerable. The Luftwaffe suffered a high number of casualties.
Hugh Dowding, the commander of the RAF during the Battle of Britain, called the day's outcome a "miracle."
Other:
WWII News
Articles:
Copyright © findingDulcinea Staff .
Link to
site
: