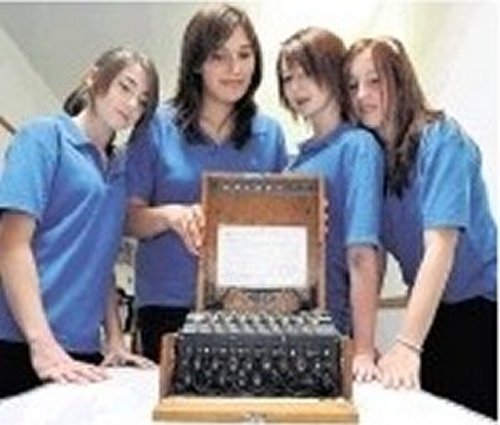 By Kerra Maddern
21 June 2008
Once part of Nazi plans to gain control of Europe, this priceless Enigma machine is now a key weapon in the fight to inspire pupils to enjoy maths.
Found lying in a field in France after the Second World War, the Enigma machine, then known as a Wehrmacht Enigma, was examined by pupils at Honiton Community College as they spent yesterday cracking codes and learning about their use in secret communication.There were once 40,000 so called "unbreakable" Enigmas in Germany, but now there are only a few dozen left in the world.
Their teachers, pretending to be codebreakers at Bletchley Park - where British maths experts deciphered the Enigma code - dressed in formal wear for the event.
The school, a specialist maths and science school, has been chosen to take part in the Millennium Mathematics Project, run by Cambridge University, which aims to counter the falling numbers of students taking the subject at A-level and degree level.
The Enigma Project, where schools officer Nadia Baker visits children with the machine, is part of the scheme.
Her presentation also drew a crowd of interested residents from the town's community.
Teachers at the school are trying to show pupils how important maths is to society.
Head teacher Norman Tyson said: "The Enigma machine is such an iconic piece of history, and the visit really fits in with the way we are trying to show what happened in the past really does have an impact in the future.
"This is certainly a different way of teaching maths."
The machine, made in 1936, was claimed by a US serviceman who found it lying in the field. After he died his family sold it to novelist Simon Singh, who wrote The Codebreaker.
Mr Singh has now loaned it to Cambridge University.
Pupils at the school said the visit inspired them.
Hannah Keating, 14, said: "It's made me more interested in maths and I know those who take it get better jobs.
"Seeing the Enigma was a real eye-opener and it was fascinating to see how the machine works."
Kirsty Waugh, 14, said: "We work with codes all the time in life and in school so we know how important they are."
Maths teacher Desmond Kumar said: "It's difficult with the modern curriculum to make subjects real, which is why it's so great to do something like this.
"It allows children to take part in the theatre of history and maths."
Other:
WWII News
Articles:
Copyright © Kerra Maddern.
Link to site. Link no longer available