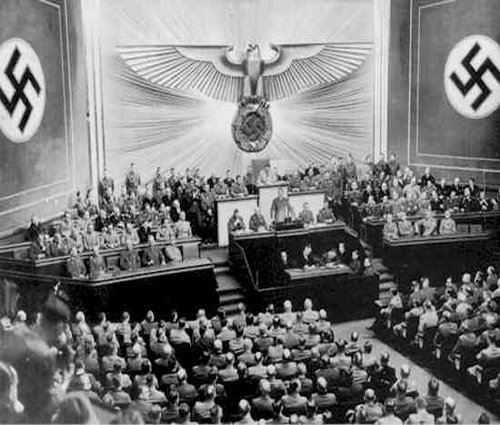 Adolf Hitler
in a speech to the Reichstag RE The Danzig question on 1 September 1939.
I am determined to solve (1). The Danzig question, (2). The question of the corridor, and (3), to see to it that a changes is made in the relationship between Germany and Poland that shall ensure a peaceful coexistence. In this I am resolved to continue the fight until either the present Polish government is willing to bring about this change or until another Polish government is ready to do so.
When statesman in the west declare that this affects their interests, I can only regret such a declaration. It cannot for a moment make me hesitate to fulfil my duty.
Germany has no interests in the West, and Western Wall is for all time the frontier of the Reich on the west. Moreover we have no aims of any kind there for the future. This attitude on the part of the Reich will not change.
I will not war against women and children. I have ordered my Airforce to restrict itself to attacks on military objectives. If however the enemy thinks he can from that draw carte blanche on his side to fight by other methods. He will receive an answer, that will deprive him of hearing and sight.
This night for the first time, Polish regular soldiers fired on our own territory. And from now on, bombs will be met with bombs. Whoever fights with poison gas will be fought with poison gas. Whoever departs from the rules of humane warfare can only expect that we shall do the same.
I will continue their struggle, no matter against whom until the safety of the Reich and it's rights secured. I am from now on, just first soldier of the German Reich. I have once more put on that coat that was the most sacred and dear to me. I will not take it off again, until victory is secured. Or I will not survive the outcome.
If our will is so strong that no hardship or suffering subdue it, then our will and our German night will prevail.
Other:
Articles:
The Second Great War.
Edited by Sir John Hamilton
The War Illustrated.
Edited by Sir John Hamilton
2194 Days Of War.
ISBN-10: 086136614X
For a complete list of
sources