The British Royal Air Force (RAF) Bomber Command made further night attacks on various, objectives in Germany, including docks at Hamburg, Bremen, Wilhelmshaven, and Emden, factories, oil refineries and goods yards. Fourteen enemy aerodromes in Holland and Germany also attacked.
Coastal Command aircraft bombed munition dumps at Harlingen, on Dutch coast, and barges near Bruges.
Italian aircraft raided Aden and Malta.
Small British garrison at Moyale still holding out.
The British Royal Air Force (RAF) made raids on El Aden, El Gubbi, and Bardia, and on shipping at Tobruk.
Six Luftwaffe bombers and six fighters shot down during enemy raids on shipping, and on land areas in England, Scotland, and Wales. Damage slight, and casualties few, since many bombs fell in open country.
M31
Minesweeper
Launched 13 July 1940
Go To:
14th July
Articles: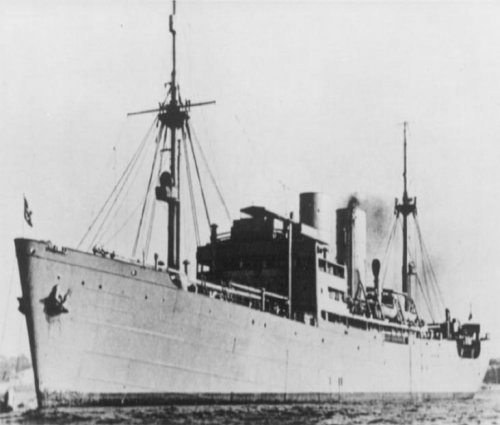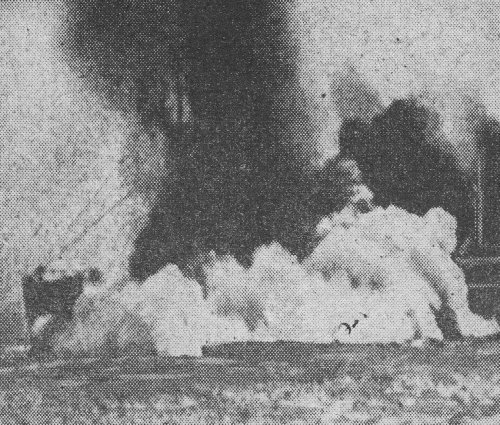 SS Kemmndine, 7,769 ton Glasgow liner, meets her doom in the Indian Ocean on 13 July 1940 after being attacked by the Kriegsmarine auxiliary cruiser
Atlantis
. The track of the German torpedo is still to be seen as the explosion churns up the sea and sends a cloud of smoke and debris high into the air. The captain, Robert Reid, and his crew, taken aboard the Kriegsmarine surface raider
Atlantis
, were landed at Mogadishu, Italian Somaliland, in July 1940. Here they remained in captivity under the Italians until released by our victorious South African Forces when they took this port. Inset, smoke and foam having subsided, the Kemmendine, her back broken, slowly disappears beneath the waves.
Photos, Keystone
The Second Great War.
Edited by Sir John Hamilton
The War Illustrated.
Edited by Sir John Hamilton
2194 Days Of War.
ISBN-10: 086136614X
For a complete list of
sources