Battle increased in violence on both sides of Paris. Fresh German forces attacked south of Rouen, and armoured columns poured over three Seine bridgeheads towards Pacy-sur-Eure and Evreux. North of Paris, 12 divisions attacked between Senlis and Betz.
French counter-attack near Persan-Beaumont 17 miles north of Paris and advanced 5 miles.
Armored German divisions crossed the Marne from Château Thierry to Dormans indirection of Montmirail, other divisions east of Reims advanced in the direction of Châlons-sur-Marne.
Germans claimed to have captured Montmedy, cornerstone of the Maginot line.
Military governor of Paris issued a proclamation declaring it to be an open town.
M Reynaud broadcast appeal for help to the American people.
The British War office announced that about 6000 men, part of British division operating north of Havre, were captured at St Varery-en-Caux with other Allied troops. Remainder of division evacuated by sea, and landed again in France.
The British Royal Air Force (RAF) continued bombing bridgeheads on Seine and military objectives in fighting zones extending east of Rouen to the Maginot line.
The British Royal Air Force (RAF) machines dropped bombs on Fort Capruzzo, Egypt-Libya frontier. Assab, Italian East Africa, also raided an extensive damage done. South African aircraft bombed Kismayo area, Italian Somaliland.
During the night of
12
-13 June 1940, British captured 62 Italians in skirmish on Egypt-Libya frontier.
Italian aircraft raided Aden three times, but were driven off with losses. Malta also was raided. Italy claimed to have bombed Bizerta (Tunisia) and Toulon.
Aircraft of fleet air arm attacked German naval units in Trondheim Fjord, scoring hits on the battleship
Scharnhorst
.
HMS Scotstoun, armed merchant cruiser, sunk by U-boat, with the loss of six lives.
Two Greek steamers Violando North Goulandris and Mount Hymettus, reported sunk by U-boat.
Go To:
14th June
Articles: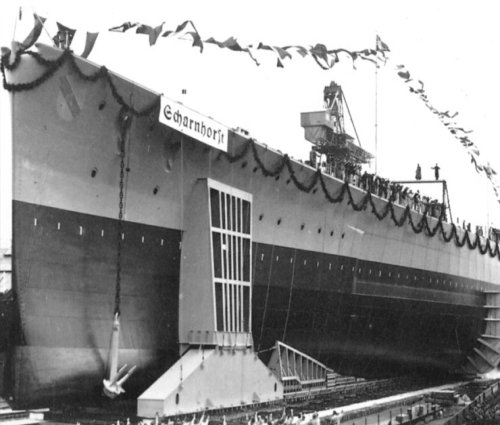 The Second Great War.
Edited by Sir John Hamilton
The War Illustrated.
Edited by Sir John Hamilton
2194 Days Of War.
ISBN-10: 086136614X
For a complete list of
sources