The British Admiralty announced extension of mine, area, which now fills the whole of Kattegat and saw them Baltic, except for 3 mile belt of Swedish territorial waters.
Another raid by the British Royal Air Force (RAF) on Stavanger aerodrome was made at dawn, salvoes of bombs being dropped and damage done to the hangar and number of Luftwaffe aircraft. Air attack also made on Luftwaffe seaplanes in Hafs Fjord, Near Stavanger.
It was reported from Stockholm, that Germans had taken Kongsberg and Larvik, west of Oslo, and Fredrikstad, Sarpsborg and Halden, to the east of the city.
The British Admiralty announced that German pocket battleship
Lützow
was successfully attacked on 11 April 1940 by British submarine HMS Spearfish. And that the light cruiser
Karlsruhe
was torpedoed by the submarine HMS Truant.
Other German ships now reported sunk included August Leonhardt, Ionia, Antares and Moonsund. Other unnamed ships were known to have been sunk. German ship Alster reported captured and Skagerrak and Maine were scuttled.
It was reported that Norwegian steamer Tosca was sunk by a U-boat of North Scottish coast on 10 April 1940.
State of siege in Holland, extended to certain new areas in the north.
Go To:
15th April
Articles: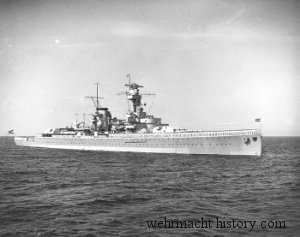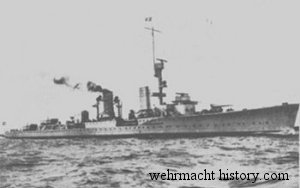 The Second Great War.
Edited by Sir John Hamilton
The War Illustrated.
Edited by Sir John Hamilton
2194 Days Of War.
ISBN-10: 086136614X
For a complete list of
sources