The British Commander-In-Chief Mediterranean reported that the HMS Ajax sank three Italian destroyers in early hours of
12 October 1940
. HMS Ajax suffered superficial damage and some casualties. Following these contacts Fleet was attacked by enemy aircraft, at least four of which were shot down. The cruiser HMS Liverpool was damaged by aerial torpedo, but reached port safely.
Successes also reported by British submarines in Mediterranean two armed merchant ships and two enemy supply ships sunk. Dunkirk heavily bombarded during night by forces of Royal Navy.
Main strength of the British Royal Air Force (RAF) bomber offensive concentrated on shipping and wharves at Kiel and Hamburg. Other, forces attacked enemy oil plants, goods yards, railway junctions and industrial targets. Boulogne was heavily bombed. Coastal Command Blenheims raided Flushing and Terneuzen. Other formations bombed Lorient and. Brest.
The war against Italy, Reported that on night of
13 October 1940
aircraft of Fleet Air Arm successfully bombed port of Lago, Dodecanese. The British Royal Air Force (RAF) bombers carried out further attacks on Benghazi, Bardia, Capuzzo, Derna and Tobruk.
Many daylight attacks by Luftwaffe aircraft, mostly fighters, and air battles took place over Kent coast, Thames estuary and elsewhere. Bombs fell in South and East London, Confectionery factory hit. During the night Luftwaffe raiders came over in groups and dropped oil and high explosive bombs. London school used as shelter demolished, with heavy casualties. Many other buildings in various areas hit, including block of working-class flats, hospitals and shelters.
Eighteen Luftwaffe aircraft destroyed. Britain lost 15 fighters, but pilots of nine safe.
Z29
Destroyer
Launched 15 October 1940
7. Räumbootsflottille
Was formed on 15 October 1940
Bernd von Foerster
Takes command of the
7. Räumbootsflottille
on 15 October 1940 to November 1942
Go To:
16th October
Articles: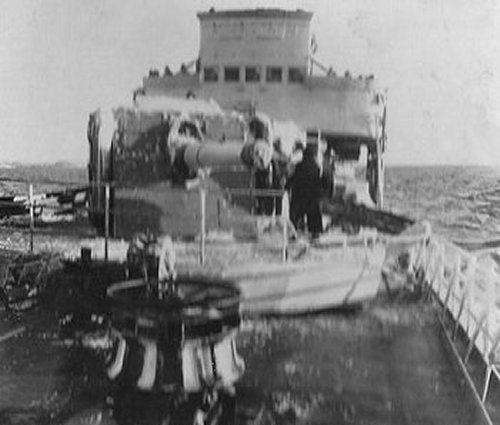 The Second Great War.
Edited by Sir John Hamilton
The War Illustrated.
Edited by Sir John Hamilton
2194 Days Of War.
ISBN-10: 086136614X
For a complete list of
sources