The British Admiralty announced that the minesweeping trawlers HMS Libra and HMS Conquistador destroyed Luftwaffe aircraft by gunfire. The British steamer HMS Port Auckland shot down a Luftwaffe bomber.
The British Royal Air Force (RAF) again bombed military objectives in Berlinf Heay attacks made on war supplies, barges and shipping at dockyards and ports along North Sea and Channel coasts. Direct hit on warship off Terschelling. Le Havre quays wrecked.
Other forces attacked distribution centres at Hamm, Osnabruck, Soest and .Kreield, and railway junction at Rheine.
Coastal Command aircraft sank supply ship off Ijmuiden, and two supply ships in convoy off Dutch coast.
It was reported from Cairo that Italian forces continued eastward advance along coast, reaching point about 20 miles from Sollum. Italians harried by the British Royal Air Force (RAF) and artillery fire from mobileguns. The British Royal Air Force (RAF) fighters shot down. six Italian bombers in Libya and Western desert.
Severe defeat inilicted on German Air Force (Luftwaffe), when 185 machines were destroyed. Britain lost 25 fighters, but 14 pilots were safe.
Attacks launched in two main waves over Dover area were met by our fighters. Intense air battles over Kent coast, Maidstone, Canterbury, above Medway and Thames Estuary, Two formations penetrated London area and bombs were dropped. Buckingham Palace hit, damaging Queen's apartments. Elsewhere houses demolished, fires started and damage done to water mains.
Time bomb which fell near St. Paul's on Wednesday safely rembved to Hackney Marshes, where it was blown up. Among other places, Luftwaffe machines crashed at Kennington Oval, Streatham and Victoria.
In afternoon two small attacks. made on Portland and Southampton area.
Night raids on London began soon after 8 o'clock Luftwaffe raiders met by heavy barrage, but some reached Central London. Three hospitals hit, damage done to houses, commercial premises and other buildings. Luftwaffe aircraft reported during night over, South West England, Midlands, and Southeast Scotland.
In Romania General Antonescu announced; formation of new, Government under direction of Iron Guard, with himself as Leader of the State and Prime Minister.
Z23
Destroyer
Commissioned 15 September 1940
Go To:
16th September
Articles: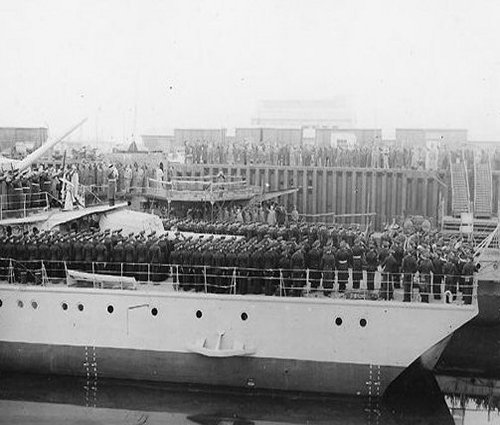 The Second Great War.
Edited by Sir John Hamilton
The War Illustrated.
Edited by Sir John Hamilton
2194 Days Of War.
ISBN-10: 086136614X
For a complete list of
sources