M Molotov, Soviet Prime Minister, in a review of foreign policy given before supreme Council of Soviet union, declared that Russia would remain neutral in the war.
German raider shot down in sea off the coast of Northumberland.
The British Royal Air Force (RAF) fighter patrols in France engaged strong formations of Luftwaffe aircraft near Metz, drove them back into their own territory and brought down to
Messerschmitt Bf 109
inflames.
Paris reported that to German aircraft had been shot down in France.
The British Admiralty announced that Luftwaffe bombers again attempted to attack convoys in the North sea, but were driven off without doing any damage.
Survivors of the bombed Dutch trawler Protinus, picked up after six days in open boat by the British submarine HMS unity, landed at Scottish port.
White book containing alleged Polish documents professing to show the part of United States of America in causing war, issued by German foreign office.
Go To:
30th March
Articles: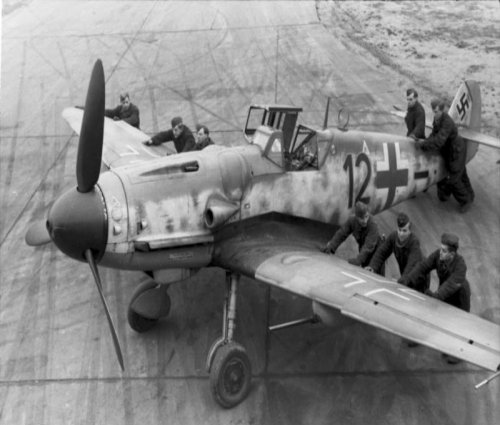 The Second Great War.
Edited by Sir John Hamilton
The War Illustrated.
Edited by Sir John Hamilton
2194 Days Of War.
ISBN-10: 086136614X
For a complete list of
sources