Aircraft of Bomber Command made heavy attacks on
Krupps
works at Essen synthetic oil plant at Cologne, blast furnaces at Dusseldorf and Oberhausen docks on Dortmund-Ems Canal, inland port of Duisburg, shipping in Dunkirk harbour, Lorient submarine base, many aerodromes.
The war against Italy, Fierce air fights over Galiabat which Italians tried to recapture.
Three formations of Luftwaffe aircraft approached Britain, one entering Thames Estuary, the other two making for Portsmouth. All were dispersed. HMS Egret destroyed one
Junkers Ju 87
dive bomber and hit another.
Intensive night, raids on London and Home Counties. Childrens hospital suffered two direct hits. Bombs also fell in Midlands and in South West England.
Seven Luftwaffe aircraft shot down. Britain lost five, but all pilots safe.
The Greek War, Athens reported that fresh enemy attacks on Epirus front were repelled. In same sector 9 tanks were destroyed. The British Royal Air Force (RAF) Again bombed Valona aerodrome. Reconnaissances carried out over Greek and Italian coasts. Brindisi heavily raided.
Go To:
8th November
Articles: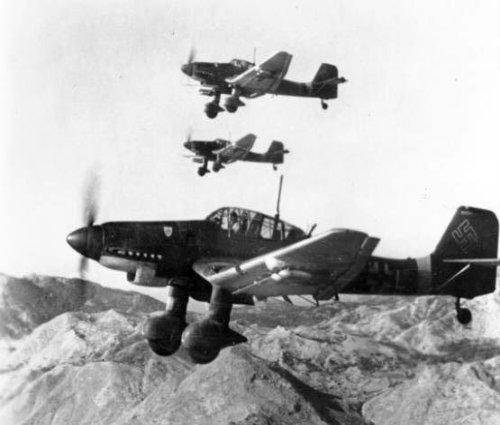 The Second Great War.
Edited by Sir John Hamilton
The War Illustrated.
Edited by Sir John Hamilton
2194 Days Of War.
ISBN-10: 086136614X
For a complete list of
sources