The British Royal Air Force (RAF) made day attacks on docks at Boulogne. Fourteen Luftwaffe
Me 109
fighters destroyed for five British. Large forces of night bombers attacked Hanover, Brunswick and Magdeburg. Smaller raids on docks at Rotterdam and Boulogne. Supply ship off Frisian Islands left sinking.
Russian Front, Moscow officially denied the Wehrmacht claim to have encircled Odessa, and stated that there had been no important operations on any front.
In Africa, Heavy bombers attacked Tripoli. Tobruk patrol wiped out enemy strong point.
In the Mediterranean, During night of
13
-14 August 1941 the British Royal Air Force (RAF) heavily bombed Corinth Canal. Heraklion aerodrome attacked. Fleet Air Arm attacked submarine base at Augusta (Sicily) and barracks at Syracuse.
Luftwaffe night raiders dropped few bombs in Northeast, East and Midlands.
It was announced that Mr. Churchill and Mr. Roosevelt had had a 3 day conference at sea, at which a joint declaration of peace aims was drawn up.
Go To:
15th August
Articles: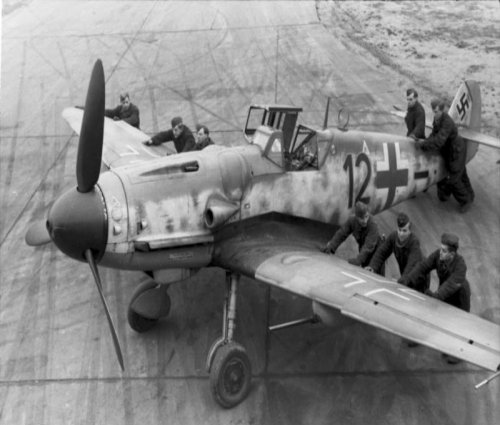 The Second Great War.
Edited by Sir John Hamilton
The War Illustrated.
Edited by Sir John Hamilton
2194 Days Of War.
ISBN-10: 086136614X
For a complete list of
sources