On night of
13
-14 February 1941 aircraft of Fleet Air Arm attacked convoy in Central Mediterranean, sinking one merchant vessel.
The British Royal Air Force (RAF) made daylight sweep over German invasion ports and at night bomber formations again attacked them. Night attacks made on Gelsenkirchen, inland port of Duisberg-Ruhrort and docks at Qstend. Kriegsmarine oil tanker hit by Blenheim off Bergen.
The war against Italy, Operations for reduction of Keren, Eritrea, proceeding. British reoccupied Kurmuk, Abyssinia. South African Air Force bombed Bardera.
On night of
13
-14 February 1941 the British Royal Air Force (RAF) bombed aerodromes in Dodecanese.
Rome reported that during night of
10
-
11
February 1941 British parachute detachments had landed in Lucania district of Calabria, but had been captured.
British fighters drove back strong Luftwaffe formations from Southeast coast and air battle took place over Channel.
One Luftwaffe
Messerschmitt Bf 109
shot down. Single Luftwaffe aircraft dropped bombs in Northeast Scotland and in Kent., At night incendiaries fell over London, but fires were prevented. Luftwaffe raiders also reported from East Anglia and elsewhere.
Luftwaffe bomber shot down off East Coast by antiaircraft fire.
The Greek War, Greek offensive along 80 mile front over 7,000 prisoners captured.
The British Royal Air Force (RAF) bombers maintained attacks North of Tepelini.
Adolf Hitler
had 3 hours talk with Yugoslav Premier and Foreign Minister.
Go To:
15th February
Articles: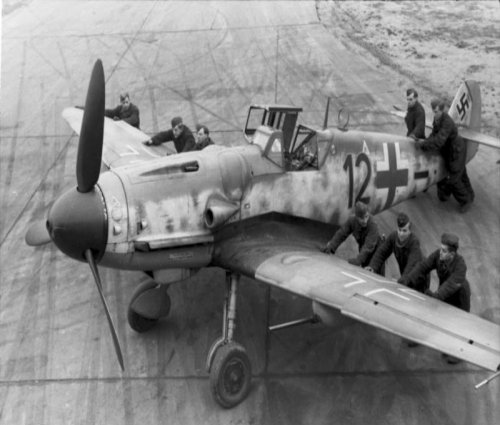 The Second Great War.
Edited by Sir John Hamilton
The War Illustrated.
Edited by Sir John Hamilton
2194 Days Of War.
ISBN-10: 086136614X
For a complete list of
sources