The British Admiralty announced that the trawlers HMS Chestnut and HMS Desiree had been sunk.
The war against Italy, the British Royal Air Force (RAF) Raided Tobruk during night of ,
17
-18 January 1941. Large transport yard at Assab was bombed and several direct hits registered. Bombs fell, on military buildings at Hargeisa, Somaliland. Asmara again raided during night of
17
-18 January 1941.
Ten
Junkers Ju 87
dive-bombers brought down by British fighters and antiaircraft fire during Luftwaffe raids on Malta.
During the day five bombs were dropped on outskirts of London. Luftwaffe aircraft machine-gunned a train in East Anglia and , several passengers were hurt. No night raids.
Long-range shelling from both sides of Straits of Dover.
The Greek War, Greek forces occupied strong enemy positions, capturing 1,000 prisoners, including many officers
Marshal Pétain and Laval had a meeting of reconciliation.
Go To:
19th January
Articles: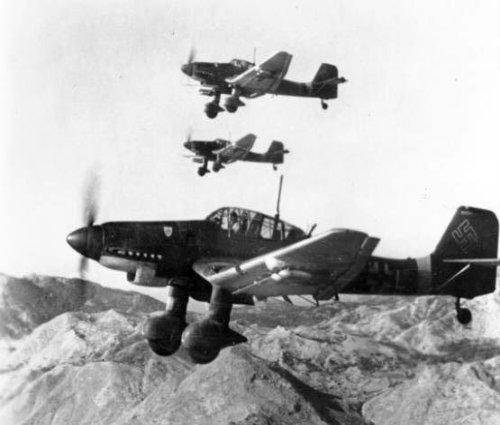 The Second Great War.
Edited by Sir John Hamilton
The War Illustrated.
Edited by Sir John Hamilton
2194 Days Of War.
ISBN-10: 086136614X
For a complete list of
sources