The British Admiralty announced that the armed merchant cruiser HMS Salopian was reported sunk.
In Africa, Two
Junkers Ju 87
dive bombers brought down over Tobruls, Night bombing attack on Benghazi.
Near East, The British War office announced that some 15,000 troops had been withdrawn to Egypt from Crete. Evacuation continued.
In Iraq, British troops entered Baghdad.
Heavy Luftwaffe night raid on Manchester. Luftwaffe bombs also fell at widely separated places elsewhere. Luftwaffe fighter shot down in sea.
Clothes Rationing Order announced to be in force.
It was announced that London's War Weapons Week totalled £123,960,000
Go To:
2nd June
Articles: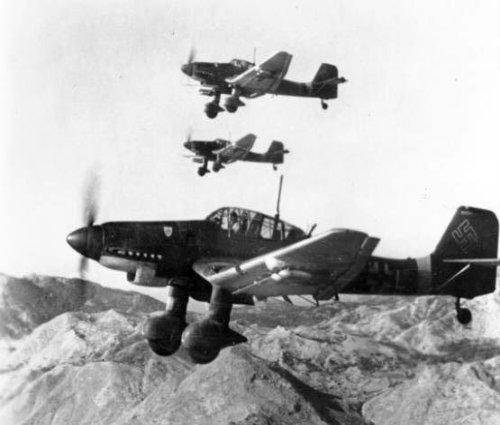 The Second Great War.
Edited by Sir John Hamilton
The War Illustrated.
Edited by Sir John Hamilton
2194 Days Of War.
ISBN-10: 086136614X
For a complete list of
sources