The British destroyer HMS Exmoor, escorting convoy in North Sea, was sunk during an attack by Kriegsmarine
E-boats
.
The British Royal Air Force (RAF) made offensive sweep over Channel by day and shipping off French coast was also attacked. Three Luftwaffe fighters destroyed. Submarine depot at Flushing bombed.
At night Bomber Command attacked industrial targets in the Ruhr and aerodromes in occupied France. Separate raids made on ports of Boulogne, Dunkirk and Calais.
The war against Italy, Cairo reported further advance south of Cubcub, Eritrea. South African Air Force, bombed targets at Nefasit, east of Asmara. Advanced elements of East and West African troops captured Mogadishu.
Nairobi announced that Abyssinian irregulars had captured both British and Italian Moyale and area had been occupied by South African troops.
During night of
24
-25 February 1941, the British Royal Air Force (RAF) raided Tripoli, heavily damaging power station, Castellorizo, small Italian island with seaplane base in eastern Mediterranean, occupied by British forces.
Two
Dorniers Do 17
shot down off Malta.
No Luftwaffe daylight raids. At night incendiaries and high explosives fell over a Southeast coast town and a Northeast town. Luftwaffe night bomber shot down in East Anglia.
In the Balkans Mr. Eden and General Sir John Dill arrived in Ankara for military talks.
Tirpitz
Battleship
Commissioned 25 February 1941
Friedrich Karl Topp
Takes command of the Battleship
Tirpitz
on 25 February 1941 to
24 February 1943
Go To:
26th February
Articles: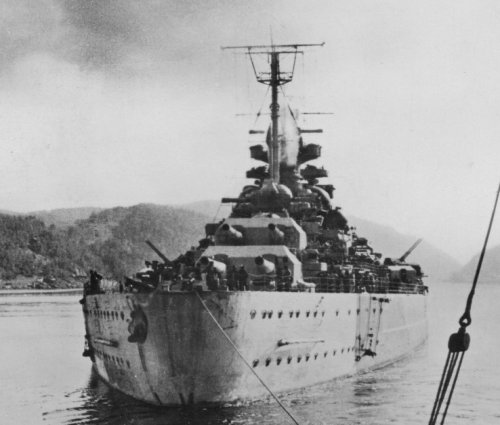 The Second Great War.
Edited by Sir John Hamilton
The War Illustrated.
Edited by Sir John Hamilton
2194 Days Of War.
ISBN-10: 086136614X
For a complete list of
sources