The British Admiralty announced loss of HMS corvette Picottee. Announced that ex-American destroyer Bath, manned by Norwegian Navy, had been sunk. Two convoys attacked off German and Dutch coasts. Two ships sunk others hit. Large-scale night raid on Cologne. Docks at Le Harve and Boulogne, and enemy aerodromes, also bombed.
Russian Front, The Wehrmacht claimed capture of Dniepropetrovsk, west of river Dnieper. They also claimed to have taken Luga, 90 miles south of Leningrad.
Iran, British and Russian troops continued to advance, meeting so far only slight resistance. Russians occupied Tabriz, Ardebil, Dilman and Lissar.
In the Mediterranean, it was announced that naval aircraft had bombed military targets north and south of Tempio, Sardinia,
Junkers Ju 87
shot down and Cant float plane heavily damaged.
Few Luftwaffe bombs fell at night at widely separated places, including Scilly Isles.
The British War Office announced creation of new East African Command, to be held by Lieutenant General Sir William Platt.
Go To:
27th August
Articles: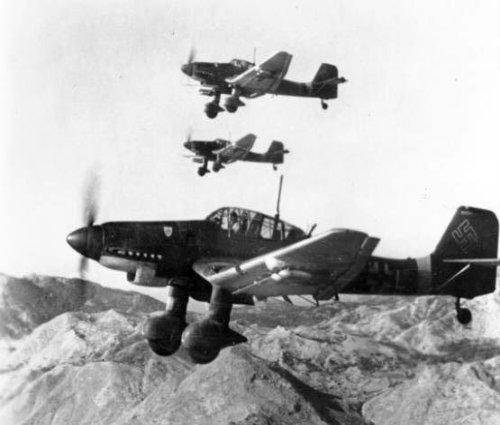 The Second Great War.
Edited by Sir John Hamilton
The War Illustrated.
Edited by Sir John Hamilton
2194 Days Of War.
ISBN-10: 086136614X
For a complete list of
sources