The British Royal Air Force (RAF) made daylight sweep over Northern France. Calais docks attacked. Short but fierce air battle over Southeast coast during afternoon, British fighters driving Luftwaffe raiders back over Channel.
Bomber Command carried out heavy night attack on industrial targets in Cologne. Fires started at Boulogne and Flushing. Air bases in Northern France bombed and machine-gunned by fighter patrols.
The war against Italy, Following capture of Mogadishu enemy forces surrendering in large numbers. Bardera occupied. Malta raided by
Junkers Ju 87
dive-bombers, seven of which were shot down and others damaged.
Few bombs dropped during the day in Kent and East Anglia. At night there were widespread raids. Many houses wrecked in Southeast town. Welsh coastal town and one in South Wales suffered heavy attacks.
Luftwaffe bomber shot down over South Wales by antiaircraft fire. Two others damaged, probably destroyed, by night fighters.
Z27
Destroyer
Commissioned 26 February 1941
Go To:
27th February
Articles: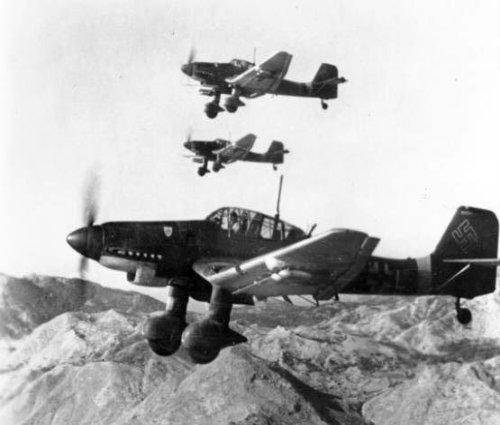 The Second Great War.
Edited by Sir John Hamilton
The War Illustrated.
Edited by Sir John Hamilton
2194 Days Of War.
ISBN-10: 086136614X
For a complete list of
sources