The British Royal Air Force (RAF) bombed Kriegsmarine convoy in Heligoland Bight four ships hit, two sunk. Naval aircraft attacked Kriegsmarine shipping in harbour of Kirkenes and Petsanno, North Finland, The Kriegsmarine gunnery training vessel
Bremse
was hit twice, at least four supply ships damaged. Night attacks on Aachen and Cologne.
Russian Front, Stubborn fighting continued in Neyel, Smolensk and Zhitomir sectors. The Wehrmacht claimed to have repulsed powerful Russian counter-attacks near Smoleusk.
In the Mediterranean, The British Royal Air Force (RAF) attacked aerodrome and seaplane base at Elmas, Sardinia, causing great destruction to aircraft.
Russian-Polish Agreement signed in London by which Soviet-German Treaty of 1939 is declared no longer valid. Both sides agreed to combine against
Adolf Hitler's
Germany.
Go To:
31st July
Articles: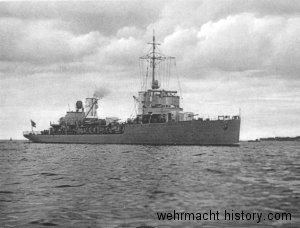 The Second Great War.
Edited by Sir John Hamilton
The War Illustrated.
Edited by Sir John Hamilton
2194 Days Of War.
ISBN-10: 086136614X
For a complete list of
sources