The British Admiralty announced that the trawler HMS Lady Philomena shot down
Junkers Ju 87
dive bomber attacking convoy off Southeast coast. The trawler HMS Tourmaline, escorting vessel, was sunk. Unconfirmed report that British Battle Fleet in Mediterranean had made another sweep, but neither Italian ships nor German dive bombers were sighted.
The British Royal Air Force (RAF) were very active over Channel and north-west France. During offensive sweep by our fighters and bombers aerodrome at St. Omer was attacked.
Four Luftwaffe aircraft destroyed. Seven British fighters lost.
The war against Italy, Italian retreat towards Benghazi quickening.
In Eritrea operations round Keren developing successfully.
During day bombs fell in Southeast Scotland and in Kent. At night raiders were over London area, a Southeast coastal district and two towns in East Anglia,
The Greek War, Athens reported capture of important positions north of Klisura.
R65
R-boat
Launched 5 February 1941
Go To:
6th February
Articles: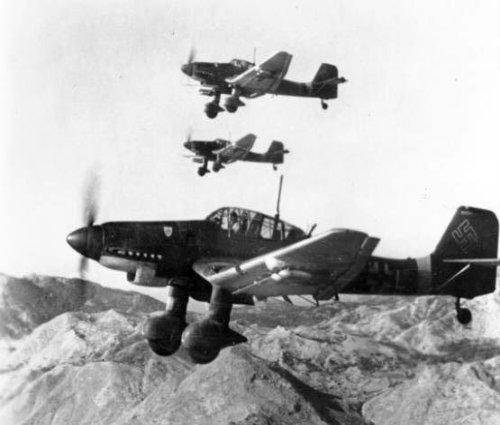 The Second Great War.
Edited by Sir John Hamilton
The War Illustrated.
Edited by Sir John Hamilton
2194 Days Of War.
ISBN-10: 086136614X
For a complete list of
sources