The British Admiralty announced that light naval forces have been operating against Kriegsmarine convoys supplying troops on Murmansk front. Kriegsmarine destroyer, armed trawler and another vessel sunk. The artillery training ship
Bremse
, was damaged on
30 July 1941
off Kirkenes, now reported sunk. Announced that large Italian schooner had been sunk by British submarine in central Mediterranean.
Russian Front, Leningrad bombed day and night. Soviet forces in central zone have recaptured Elnya and advanced beyond it. Fifty villages said to have been retaken.
In Africa, The British Royal Air Force (RAF) raided landing grounds at Tmimi, Martuba, Derna and Gazala. The British Royal Air Force (RAF) heavily bombed Corinth Canal on night of
8
-9 September 1941, making many direct hits. Heraklion aerodrome, Crete, also attacked. Other forces bombed Palermo harbour and aerodromes at Catania and Gerbini.
In Iran, It was announced that Iranian Govt. had accepted British and Soviet terms.
The United States of America, Washington announced that Panamanian ship Sessa, operated by New York firm, was torpedoed without warning and sunk by
U-38
off Iceland on
18 August 1941
.
R58
R-boat
Sunk 9 September 1941
Go To:
10th September
Articles: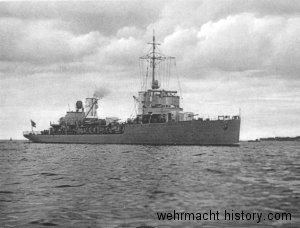 The Second Great War.
Edited by Sir John Hamilton
The War Illustrated.
Edited by Sir John Hamilton
2194 Days Of War.
ISBN-10: 086136614X
For a complete list of
sources