Naval forces under Rear Admiral Vian, covering passage of a convoy through Mediterranean, made contact with an Italian force. Italian battleship torpedoed and set on tire two cruisers damaged. British losses, one merchant ship sunk one destroyer hit.
Russian Front, Moscow announced 12,000 Wehrmacht killed in ten day battle on the Kalinin front.
In Africa, Cairo announced that mobile columns of the 8th Army had carried out a successful two day raid behind Field Marshall
Erwin Rommel's
lines in Libya.
Far East, Japanese made daylight raid on Darwin and Katherine. Allied planes heavily bombed Lae in New Guinea.
Sir Stafford Cripps arrived in India.
Z26
Destroyer
Sunk 29 March 1942
Go To:
23rd March
Articles: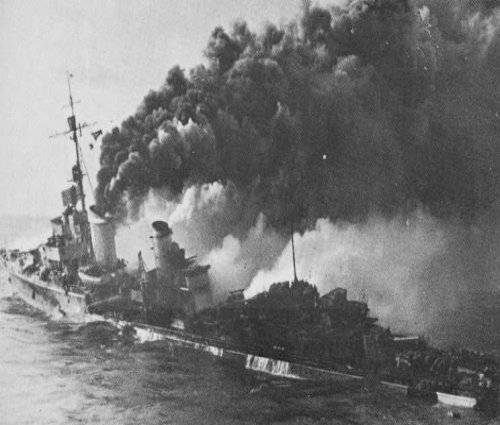 The Second Great War.
Edited by Sir John Hamilton
The War Illustrated.
Edited by Sir John Hamilton
2194 Days Of War.
ISBN-10: 086136614X
For a complete list of
sources