Russian Front. The Wehrmacht ground forces made some headway towards Volga North of Stalingrad.
In Australasia. Japanese air force bombers attempting to raid Guadalcanal turned back by United States of America fighters and antiaircraft guns. During night of 3-
4
October 1942 United States of America dive-bombers attacked Japanese warships landing reinforcements.
United States of America. Navy Department. Announced that United States troops had occupied Andreanof Islands, in Aleutians, and established airbases.
On the night of 3-
4
October 1942, ten men of the British Small Scale Raiding Force and No. 12 Commando (attached) made an offensive raid on the isle of Sark, called Operation Basalt, to reconnoitre, and take some prisoners.
During the raid, five prisoners were taken. To minimise the task of the guard left with the captives, the commandos tied the prisoners' hands. According to the British personnel, one prisoner allegedly started shouting to alert those in a hotel, and was shot dead. The remaining four prisoners were silenced by stuffing their mouths, according to Anders Lassen, with grass. En route to the beach, three prisoners made a break. Whether or not some had freed their hands during the firefight has never been established, nor is it known whether all three broke at the same time. Two are believed to have been shot and one stabbed. The fourth was conveyed safely back to England. Officially sanctioned German military accounts of the time assert unequivocally that the dead German soldiers were found with their hands bound, and later German military publications make many references to captured Commando instructions ordering the tying of captives hands behind them, and the use of a particularly painful method of knotting around the thumbs to enable efficient, coercive, single-handed control of the captive.
United States Army, Middle East Air Forces (USAMEAF). United States Army Air Force (USAAF) B-24 Liberator heavy bombers attack shipping in Pylos Bay during 3-
4
October 1942. The heavy bombers claim 2 fighters shot down.
Tenth Air Force. India Air Task Force (IATF) is activated at Dinjan to support Chinese resistance along Salween River by hitting supply lines in central and South Burma. The new task force, command by Colonel Caleb V Haynes, includes all Army Air Forces combat units in India the 7th and 341st Bomber and 51st Fighter Groups.
Fifth Air Force. United States Army Air Force (USAAF) A-20 Havoc light bombers bomb and strafe Efogi and Myola Lake, P-40 fighters strafe Efogi-Buna trail, B-25 Mitchell medium bombers hit bridge at Wairopi, and a lone B-17 Flying Fortress heavy bombers bombs camp on Kumusi River.
Eleventh Air Force. 6 United States Army Air Force (USAAF) B-24 Liberator heavy bombers, 4 P-38 Lightning fighters, and 8 P-39 fighters bomb and strafe 7 vessels in and around Kiska Harbour hitting a beached cargo vessel and the camp. The fighters down 6 float fighters attempting interception. Enemy bombs Adak airfield but inflicts no damage.
The first
Aggregate 4
(A-4)
V-2 Rocket
is successfully launched from the
Peenemünde
Test Stand VII in Germany. The rocket flies 147 kilometres wide and reaches a height of 84.5 kilometres, becoming the first man made object to reach space.
M476
Minesweeper
Launched 3 October 1942
Go To:
4th October
Articles: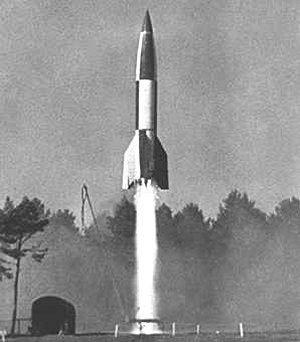 The Second Great War.
Edited by Sir John Hamilton
The War Illustrated.
Edited by Sir John Hamilton
2194 Days Of War.
ISBN-10: 086136614X
For a complete list of
sources