Soviet air force aircraft made mass raid on Insterburg, East Prussia.
North Africa. First Army launched attack in Goubellat-Bou Arada sector.
In the Mediterranean. The British Royal Air Force (RAF) fighters shot down 31 Luftwaffe
Me 323
transports and 11 fighters in Gulf of Tunis.
Northwest African Air Forces (NAAF) Northwest African Strategic Air Force (NASAF) B-25 Mitchell medium bombers bomb 2 landing grounds near Protville while B-26 Marauder medium bombers hit harbour at Carloforte. Northwest African Tactical Air Force (NATAF) fighters and Light bombers fly sweeps, reconnaissance, and patrols and attack positions at Djebel el Ahmera, (Longstop Ridge) Sidi Nsir, Djebel el Ajred (Bald Hill), and other points as British First Army's 5 Corps launches start of final phase of assault on Tunisand Bizerte, attacking on front North and South of Medjez el Bab.
Ninth Air Force. United States Army Air Force (USAAF) P-40 fighters fly fighters sweeps over battle area along Gulf of Hammamet.
Fifth Air Force. United States Army Air Force (USAAF) A-20 Havoc light bombers and B-25 Mitchell medium bombers pound Lababia-Duali area on Nassau Bay. Single B-17 Flying Fortress heavy bombers bomb Dobo and Nubia area, and strafe Ubili.
Seventh Air Force. Airfield on Funafuti is bombed twice during
21
-22 April 1943 by Japanese. 2 B-24 Liberator heavy bombers are destroyed and 5 others damaged.
M23
Minesweeper
Recommissioned 22 April 1943
Go To:
23rd April
Articles: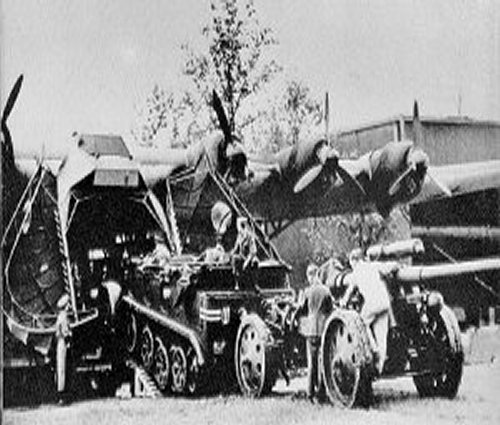 The Second Great War.
Edited by Sir John Hamilton
The War Illustrated.
Edited by Sir John Hamilton
2194 Days Of War.
ISBN-10: 086136614X
For a complete list of
sources