Russian Front. Lisichansk and Barvenkovo in Ukraine, Bataisk, South of Rostov, and Yeisk on Sea of Azov occupied by Russians.
In Australasia. In air engagements over Wau, New Guinea, 41 Japanese air force aircraft were destroyed or damaged.
Twelfth Air Force. XII Bomber Command cancels missions because of weather. P-40 fighters and P-39 fighters fly reconnaissance and strafing mission between Sidi bou Zid and Sfax. Spitfires escort transport and evacuation missions.
Tenth Air Force. 16 fighters follow Mali River to Hpunkizup where they destroy about 20 trucks loaded with bridge repair equipment and completely decimate the village. Heavy bombers attack bridge at Myitnge but fail to seriously damage the target.
Fifth Air Force. United States Army Air Force (USAAF) A-20 Havoc light bombers bomb and strafe forces along track from Mubo to Komiatum to Salamaua and hit the enemy in the Mambare River delta. B-25 Mitchell medium bombers hit airfields at Lae. A single B-24 Liberator heavy bombers hits cargo vessels off Finschhafen and Powell Point, claiming 1 vessel destroyed, and attacks troop barges in Riebeck Bay, causing several casualties. Japanese aircraft attack Wau airfield. Allied fighters P-40 fighters, P-39 fighters, P-400 fighters, and P-39 fighters effectively intercept the attacks during the late morning and midday hours, claiming 24 of the enemy shot down in air combat. No allied aircraft are shot down.
Eleventh Air Force. Weather reconnaissance is flown over Kiska and Attu.
M460
Minesweeper
Commissioned 6 February 1943
Z33
Destroyer
Commissioned 6 February 1943
Go To:
7th February
Articles: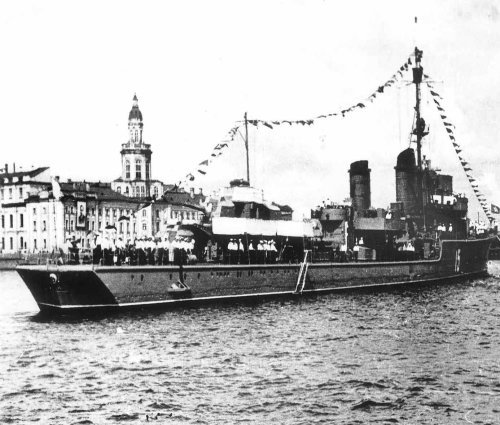 The Second Great War.
Edited by Sir John Hamilton
The War Illustrated.
Edited by Sir John Hamilton
2194 Days Of War.
ISBN-10: 086136614X
For a complete list of
sources