Eighth Air Force. Approximately 900 United States Army Air Force (USAAF) heavy bombers attack Gustavsburg diesel engine and armoured vehicle plant, Mainz marshalling yard, artillery tractor plant at Mannheim, and several nearby towns and targets. 15 fighters groups fly escort.
Ninth Air Force. Weather prevents bomber operations. Fighters attack tank concentration East of Luneville, strafe targets North West of Kaiserslautern, fly reconnaissance in West Germany, and provide cover for United States Third and Seventh Army forces in East France.
Twelfth Air Force. XII Air Force redesignate XII Fighter Command as XXII Tactical Air Command following a reorganisation period during which the XXII Tactical Air Command was temporarily referred to as 'X' Tactical Air Command and 'X-Ray' Tactical Air Command, to distinguish it from XII Fighter Command Headquarters around which it was formed. B-26 Marauder medium bombers attack Mantua causeway, railway fill at Ossenigo, and bridges at Calcinato and Peschiera del Garda. Fighter attack North West of Mantua accounts for 2 medium bombers lost and 1 missing. At least 2 of the attacking fighters are destroyed. B-25 Mitchell medium bombers attack bridges in Milan area at Lonate Pozzolo, Cameri, and Magenta. Fighter-bombers of XXII Tactical Air Command hit targets in support of ground forces, concentrating on Monte Grande area, and attack rail lines and bridges North of battle zone. On
18
-19 October 1944, light bombers hit targets during armed reconnaissance in Genoa and Bologna areas.
Fifteenth Air Force. Bad weather restricts operations to reconnaissance missions.
Tenth Air Force. 10 United States Army Air Force (USAAF) P-47 Thunderbolt fighters blast approaches to 2 bridges in Mawlu are and 15 support ground forces in Mohnyin area, hitting village of Nyaunggaing and damaging nearby bridge and pounding railroad station at Kadu.
Fourteenth Air Force. Nearly 100 United States Army Air Force (USAAF) P-51 Mustang fighter-bombers and P-40 fighters on armed reconnaissance over South China hit numerous targets from Tungting Lake area to Luichow Peninsula. The fighter-bombers concentrate on river craft, troop compounds, and building areas.
Far East Air Force (FEAF). United States Army Air Force (USAAF) B-24 Liberator heavy bombers hit Parepare. Fighter-bombers hit Amboina and Boela airfield and shipping from Zamboanga South in Sulu, Mindanao area, pound Cebu airfield, hit nearby shipping, and strafe Miti, Djailolo, and Hate Tabako. A-20 Havoc light bombers and fighter-bombers blast airfields at Urarom, Sagan, and Babo.
Seventh Air Force. United States Army Air Force (USAAF) B-24 Liberator heavy bombers on armed reconnaissance from Saipan bomb bridge, pier, and town area at Yap.
Eleventh Air Force. A United States Army Air Force (USAAF) B-24 Liberator heavy bombers bombs Kurabu Cape.
V-2 rocket
launched against England, hit Borough Green.
M803
Minesweeper
Launched 19 October 1944
Go To:
20th October
Articles: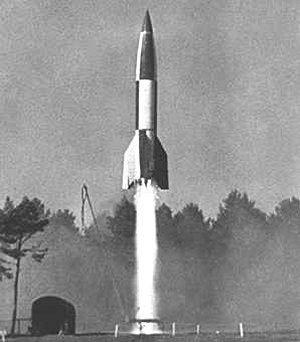 The Second Great War.
Edited by Sir John Hamilton
The War Illustrated.
Edited by Sir John Hamilton
2194 Days Of War.
ISBN-10: 086136614X
For a complete list of
sources